Skip Navigation
Website Accessibility
Learning Center
Have you always wanted to play an instrument? Are you searching for a teacher for yourself or a family member? Are you a teacher who is looking for students to teach? Our Education Center here at Chesbro Music Co could be your answer. We offer a variety of programs, such as individual lessons, group classes, clinics and recitals. Check out our instructors or give us a call. You are never too old to learn.
We offer lessons for Piano, Ukulele, Saxophone, Guitar, Flute, Trumpet, Oboe, Drums, Voice, and more!
Chesbro Music Lesson Form
Fill out this form and we will contact you within 48 hours with teacher info and schedule availability. Scroll down to see a list our our instructors.
Freddy Gildersleeve
Born here in Idaho, I have been playing guitar since 1984. I began playing live on my 21st birthday in 1991 and have never stopped. I've played everything from Beatles pop to country and bluegrass to funk, rock-n-roll to my current Jazz band: The Dewdroppers
The only thing I love as much as playing music live is teaching music. When the light comes on and a student "gets it", I get as much joy as they do.
Caleb Coleman
Drums Instructor
I aim to help you achieve your goals through personalized training focused on technique, coordination, groove, and musicality. In addition to over a decade's worth of playing experience, my 5 years of teaching experience have included private students, masterclasses, and clinics with both drumlines and big bands at Hillcrest, Bonneville, and Idaho Falls High Schools. Let's play music, not just the drums.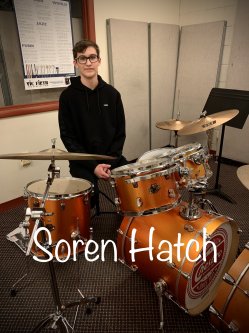 Soren Hatch
Drums Instructor
I am currently a student at Skyline High School and have been active in Jazz Band, Marching Band, Pep Band, and Percussion, Symphonic, and Concert Band. I've also taken private lessons consistently for almost four years. I have performed in some private gigs and competed in solo competitions. I love Jazz music but am also comfortable teaching other genres such as Rock. I'm only taking beginning students at this time.
Jared Smith
Drums/Percussions Instructor


Jared Smith is a professional drummer, percussionist, programmer and educator. With a BA in Music performance with an emphasis in commercial music, Jared splits his time between performing, recording, touring, and teaching. As an educator, Jared has over a decade of experience teaching private music lessons and hosting masterclasses and clinics.
Contact Jared
Mary Campbell comes to us from Lodi, California, and has been playing guitar since age 10. She has played ukulele since 2010, and enjoys attending ukulele festivals to meet other ukulele players. She played with the River City Ukulele Orchestra as well as being half of the "Lodi Ukuladyz". Both of these groups played for many retirement communities, memory care, and assisted living facilities; the former in the Roseville area and the latter in the city of Lodi. She truly is a ukulele ambassador and looks forward to meeting YOU!

Contact Mary
Colleen plays French horn in the Idaho Falls Symphony and various other local music groups in the area, and had been teaching private music lessons for over 30 years. She earned her bachelor's degree in music education from Western Colorado University in 1991, where she focused on French horn and piano, earning the prestigious Damson Scholarship for Musical Performance.

Colleen graduated summa cum laude and though she switched careers to focus on writing (she is a published author and full-time freelancer), she continues to enjoy teaching music privately. Many of her students have gone on to earn scholarships for their musical ability at the college level. She expects her students to work hard, and she goes the extra mile for them in return, striving to instill within them a love of music, an ability to focus and accomplish their goals, and a sense of inner confidence and pride that will serve them throughout their lives.

Contact Colleen
Clara loves teaching violin and has been playing for 14 years. She played as principal violinist in the BYU-Idaho student orchestra, performed in the Utah All-State Orchestra, and played in the BYU Summerfestival symphony and orchestra. She has received superior ratings for her state solo performances. Clara believes in authenticity, fun, positivity, and that music brings people together. Besides playing the violin she loves yoga, kayaking and fishing, graphic design, singing with her family, and eating popcorn.
Sadie
I have had a natural love of music ever since I was little. At 8 years old I saw a violin performance for the first time and fell in love with the instrument. I have been playing ever since. I participated in the Idaho Falls Youth Symphony for 6 years and also enjoyed playing in local middle school and highschool orchestras. I have taught violin lessons for 5 years. I have experience teaching private lessons, classrooms, young students and old students! I teach beginner and intermediate players. I love working with people and am excited to meet you!
Jonah's Drum Lessons are always fun!!! More than 20 years experience teaching, performing, and recording Rock N' Roll, Jazz, Folk, County, EDM, Pop, and more; he will make sure you are inspired to practice, comfortable and learning at a pace that works for you. You will be given new beats, exercises, and techniques in every session.

Contact Jonah
Madara Seegmiller
(Also beginning-intermediate piano)
I come from a small, beautiful country in Europe called Latvia. Music has always been a huge part of my life. I am a professional violinist with a 4 year of college degree in Classical music performance. Besides music, I enjoy spending time in nature, reading a good book, going on hikes, and attending live concerts, musicals, opera and theater.
I have taught violin lessons for over 10 years, teaching young students ages 6-18, both as private lessons, group lessons, and ensembles. I teach beginner, intermediate and advanced players. I'm also a certified music therapist with a few years of experience. I can also teach piano lessons for beginners and intermediate. I absolutely enjoy teaching and working with people, seeing their excitement and love grow through their hard work and progress.
Spencer Darley
Spencer Darley is a piano instructor with 20 years of experience with various practices, including the Suzuki Method, Bastien Piano Basics, and Alfred's Piano Methods.He offers in person and virtual lessons.
Spencer began playing when he was five years old, and at the age of 11, he was asked to begin leading congregations in his church. He then decided to move onto the organ at the age of 12. Spencer struggled to find passion in music until he was 13, in which he learned ragtime music.
Spencer aspires to help young students find their passion to help them become independent learners and pursuers of their favorite styles of music.
Spencer enjoys his time eating out at new places with his wife and working on different mechanical projects in his downtime.