Caleb Coleman
Drums Instructor
I aim to help you achieve your goals through personalized training focused on technique, coordination, groove, and musicality. In addition to over a decade's worth of playing experience, my 5 years of teaching experience have included private students, masterclasses, and clinics with both drumlines and big bands at Hillcrest, Bonneville, and Idaho Falls High Schools. Let's play music, not just the drums.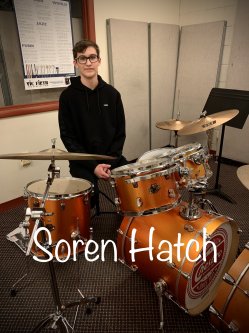 Soren Hatch
Drums Instructor
I am currently a student at Skyline High School and have been active in Jazz Band, Marching Band, Pep Band, and Percussion, Symphonic, and Concert Band. I've also taken private lessons consistently for almost four years. I have performed in some private gigs and competed in solo competitions. I love Jazz music but am also comfortable teaching other genres such as Rock. I'm only taking beginning students at this time.
Jared Smith
Drums/Percussions Instructor


Jared Smith is a professional drummer, percussionist, programmer and educator. With a BA in Music performance with an emphasis in commercial music, Jared splits his time between performing, recording, touring, and teaching. As an educator, Jared has over a decade of experience teaching private music lessons and hosting masterclasses and clinics.
Contact Jared